Forest School 17th and 18th March 2021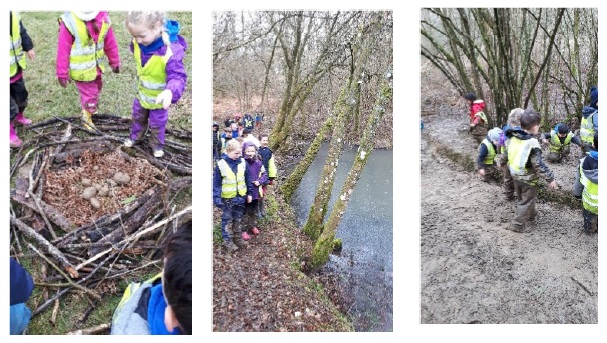 18 March 2021
This week Reception, Year 3 and Year 4 had Forest School in the woods. We were all still looking for the signs of spring and enjoying our time outside with nature.
Reception, Year 3 and Year 4 - It was the first time that Reception had been down to our forest. They had so much fun playing in the forest and investigating birds' nests. Year 3 had made an enormous nest! Could it be a dinosaur or a dragon? We played in the mud and got extremely dirty.
We also went for a walk to investigate the Forest we found a pond. At the edge of the pond, there was some frogspawn. Frogs begin their life in an egg; they grow until they hatch as tadpoles. First, they grow back legs, then front legs and eventually their tails drop off and they become froglets. This is called metamorphosis.
Year 3 and Year 4 found so many interesting signs of spring. There were catkins from Hazel, Alder and Goat Willow (Pussy Willow). Can you see the holes a woodpecker has made in this old bark looking for insects?
Year 3 and year 4 also walked to the bottom of the forest to see the wild garlic growing in the woods. We also made dens and played games.
Everyone demonstrated fantastic teamwork and problem solving skills whilst constructing and playing.